Since 1993 Scabbydisc Music has been my publishing company and record label for my bands. Now you can buy everything we've made direct. Shipping usually takes less than one week, but feel free to add special instructions if you need something by a particular date.
NEW: Head Above Water by Pirate Jenny
Pirate Jenny's 2021 release Head Above Water contains our usual emo sea chanties, piano pop, fantasy rock — and one birthday song. I made it mostly with my friends Paul and John. Paul sings about half of the songs. 
We started out by recording two songs in Portland in 2016, and then continued collaborating with identical digital four-tracks while Paul was living in New York. "Rock Docktor" is one of those tracks where Paul sent the drums he'd recorded in his living room, and then I overdubbed guitar, bass and xylophone here before sending it back to Paul for vocals.
Spiral is a song Paul wrote as a surprise for my 50th birthday. Lighthouse Keeper's Phantasy is a song I started in 1997 and only just finished. I always knew I would try to go all Steve Stevens on the guitar riff. Piano on the Deck of a Ship and Spiral are two of my favorites.
Never-Sea Land by Pirate Jenny

11-song CD, $15 + $2 shipping
In 1996 Paul Iannotti and I spent the spring holed up in my NE Portland bungalow recording our fantasy pop, pirate, rock album. This one still holds up today, from the heavy piano and guitar groove of "Pull Another Angel," to the jangly pop of "Smiling Skull." A Pirate's Life is Peaceful was once played on the Doctor Demento Show after the Doctor saw us perform at Reed College. The album has 11 great songs — no fluff. Probably the most challenging song is the final track, Sensitive Pirates no more, which has a rough edge to it.
Tracks: A Pirate's Life Is Peaceful ('til Someone Cuts You Up), Tip the Black Spot, Island of Harm, The Rowing Galley, Smiling Skull, Galleons of War, Captain Slaymore, Pull Another Angel, Never-Sea Land, Galleons of War. Sensitive Pirates No More
REVIEW
With its layers of acoustic guitars, tender love songs and multi-track vocals, Never-Sea Land might just be the Pet Sounds of pirate music. This Portland Quartet spent months in the studio crafting tracks around a singular theme, setting drifting harmonies against a gorgeous piano backdrop on "Galleons of War," juxtaposing a xylophone with a Byrds-like guitar riff in "Smiling Skull" and copping '70s power chords to evoke the evil "Captain Slaymore." Rather that relying on schtick, Pirate Jenny earnestly tackles British pop and American rock while singing chanteys about dangerous sea-faring bandits or lonely men stuck on a ship and longing for the loves they've left behind. Kevin Hendrickson's complex guitar parts intermingle with Paul Iannotti's Keyboard and xylophone excursions, and the two trade lead vocal responsibilities with equally strong results. Bassist Eric Furlong and drummer John Morgan remain in the background, subtly keeping the vessel on course. The winso! me title track, laced with melodica-like keyboard and a deep-voiced chorus, points out the pirate's dilemma:
"We sail and we sail and we never see land just rum in the bottle and a pip in my hand /Never got rich 'cause we never had a plan and the treasure just rusts in the corner of the galley below."
Because of the limitations of such an angular approach, Never-Sea Land could have been a fiasco, but instead this band's dynamic debut is filled with evocative lyrics and a cornucopia of clever musical passages. Pirate Jenny seems to have come ashore to show the Beach Boys the downside of a life by the sea, albeit within a similar pop framework.
—Richard Martin, Willamette Week
---
Once Upon A Wave by Pirate Jenny

17-song CD, $15 + $2 shipping
Three years on the heels of their first album release, 1999's Once Upon A Wave was more experimental and features more tracks — 17 in all. Nothing was cut, and for some this is a strength, others a distraction. At least you get to hear all of our ideas! Some of my personal favorites are "Strap On Your Courage," where you hear the voice talents of John Breen, Loren Hoskins, and Bryan Coffee; as well as "Long Time Sailing," Paul Iannotti's retelling of Pirate Jenny's Portland adventures in the 90s.
---
Shipwreck Special by Pirate Jenny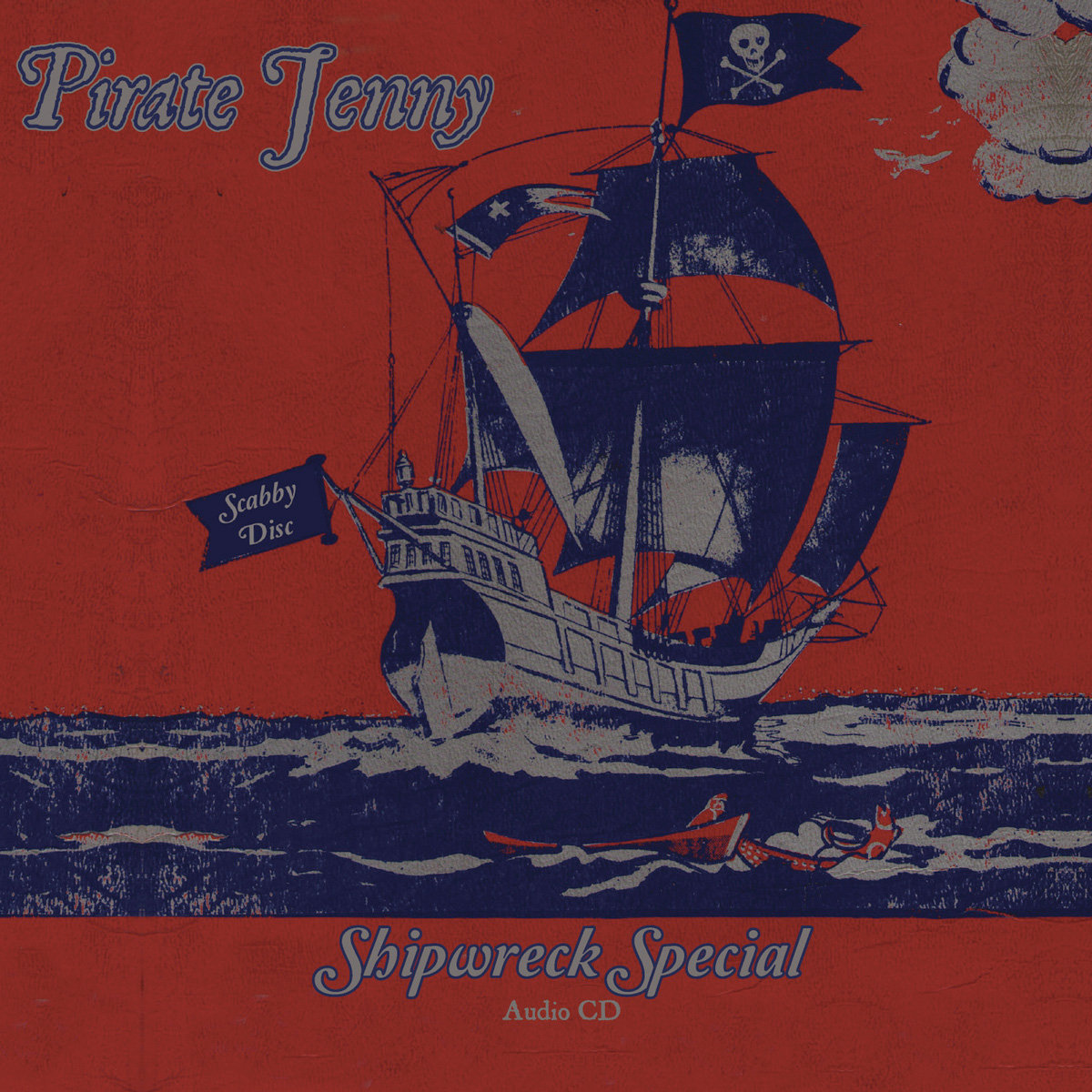 11-song CD, $15 + $2 shipping
This 2013 release harkens back to Pirate Jenny's first album, Never-Sea Land, in it's focused pop album style. Highly listenable pirate pop, from the ska-flavored "Port and Starboard Man," to the frenetic xylophone storm of "Skeleton." For about two years this was my family's favorite album in the car.
---
Bedtime Stories for Pirates by Captain Bogg & Salty

9 songs and stories CD, $15 + $2 shipping
In 1999 I teamed up with Loren Hoskins to write and produce this album, our tribute to all of the fun records (including Disney) that we loved as kids. We ended up with an endearingly swashbuckling mix of pirate pop, rock, and pull-no-punches ghost stories that still resonate years later.
---
Pegleg Tango by Captain Bogg & Salty

14 songs and stories CD, $15 + $2 shipping
2004's Pegleg Tango is Captain Bogg & Salty's first album as a full band, including the influences of Mister Filibuster, Sunny Jim, Buckle, and Ramshackle along with the founders Captain Bogg & First Mate McGraw. For many, this album is considered Captain Bogg & Salty's best.
---
Emphatical Piratical by Captain Bogg & Salty

12-song CD, $15 + $2 shipping
This 2009 release picks up where Pegleg Tango left off, with songs and stories of life aboard the band's ship The Pollywogg. Set sail for Frogg Island with a shipload of stowaway bunnies, and remember: Don't Drink Seawater!
---
Ship to Shore by Kevin Hendrickson

10-song CD, $15 + $2 shipping
It seems every artist has to make a solo album at some point, and this was my solo moment in 2002. It contains the usual nautical absurdity as well as observations about love, life, and high-school. There are some great songs on this album, especially "Radio Man," and "If I Could Make My Dreams Into Movies."
---
I Will Spock You EP by Hucklescary Finn

4-song CD, $7 + $2 shipping
There's a synergy between all of my projects that causes me to try out the same songs with different bands. Hucklescary Finn — my longtime duo with drummer Matt Giger — is the wellspring of this synergy. Over the years our careless jams rapidly became songs performed and recorded by Pirate Jenny, Captain Bogg & Salty, and Postmodern Pirates.
---
Postmodern Pirates Tri-blend Unisex T-shirt
$20 + $2 shipping
These comfortable, high quality tri-blend T-shirts will give you years of wear. Color is heather grey. Unisex sizes S, M, L, XL. Silkscreened front, blank back.